Metal Legs Frame Bentwood Round Dining Chair Stool
SC030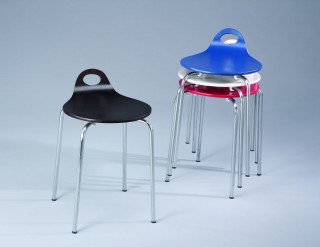 Metal Legs Frame Bentwood Round Dining Chair Stool (SC030)
Bentwood chair stool as dining room chair, the seat part is made of bentwood with NC lacquer, and various colors are available. The metal iron leg is good structure with non-scuff leg caps, dia 16mm, chrome finish. It's the RTA furniture / KD structure. General used in home furniture, dining room furniture, restaurant furniture, cafe bar furniture, bistro furniture, dinette furniture, tavern furniture, hotel furniture, commercial furniture, living room furniture, and bedroom furniture. Appearance belongs to modern furniture and contemporary design.
Specifications
Item#
SC030
Name:
Metal Legs Frame Bentwood Round Dining Chair Stool
Color:
Nature, white, black, red, green, dark blue…etc.
Wood Color:
Wenge, oak, cherry, beech…etc. (optional)
Veneer Type:
Basswood veneer (basic),
Walnut veneer, oak veneer, beech veneer, flower printed veneer. (optional)
Size:
340*375*530mm.
Material:
Bentwood in NC lacquer;
Iron metal tube chrome plated: dia 16mm*1.8mmT.
(dia 19mm*1.6mmT is also available.)
General Package:
4 PCS/CTN; KD packing; L shape;
in a 5-layer general export carton with line drawing.
G.W.: 10.8 KGS; M/T: 1.4' (0.0396 CBM)
20ft: 2800 PCS; 40ft: 5860 PCS.
Place of origin:
Made in Taiwan
Port:
Taichung, Taiwan
Delivery Time:
30-35 days after receipt 30% advance deposit.
Supply Ability:
80000 PCS per month.
Key Features
Stackable & lightweight
Safe, rounded edges
Non-scuff leg caps
Available in a beautiful natural finish & various color
Available in different shape design
Stylish Life in Furniture! Welcome OEM & ODM furniture inquiry!!
TAG: dining chair,dining room chair,restaurant chair,plywood chair,veneer chair,bentwood miller chair,cafe chair,bistro chair,dinette chair,commercial chair,conference chair,hotel chair,bedroom chair,living room chair,furniture chair,chair furniture,bulk chair,stool chair.,
Contact Sam Yi to Get a Quotation Now!
* To get quick response, please fill out the inquiry form in English.