Square Metal Legs Frame Bentwood Dining Chair
SC053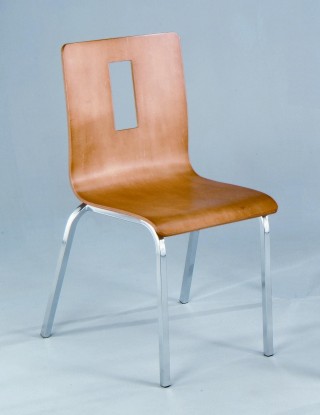 Square Metal Legs Frame Bentwood Dining Chair (SC053)
Bentwood chair as dining room chair, the seat part is made of bentwood with NC lacquer, and various colors are available. The square metal iron leg is good structure with non-scuff leg caps, chrome finish. It's the RTA furniture / KD structure. General used in home furniture, dining room furniture, restaurant furniture, cafe bar furniture, bistro furniture, dinette furniture, tavern furniture, hotel furniture, commercial furniture, living room furniture, and bedroom furniture. Appearance belongs to modern furniture and contemporary design.
Specifications
Item#
SC053
Name:
Square Metal Legs Frame Bentwood Dining Chair
Color:
Nature, white, black, red, green, dark blue…etc.
Wood Color:
Wenge, oak, cherry, beech…etc. (optional)
Veneer Type:
Basswood veneer (basic),
Walnut veneer, oak veneer, beech veneer, … (optional)
Size:
495*490*840mm.
Material:
Bentwood in NC lacquer;
Square metal tube chrome plated: 20*20mm.
General Package:
4 PCS/CTN; KD packing; in a 5-layer general export carton with line drawing.
G.W.: 22.0 KGS; M/T: 8.43' (0.2387 CBM)
20ft: 459 PCS; 40ft: 924 PCS; 40HQ: 1080 PCS.
Place of origin:
Made in Taiwan
Port:
Taichung, Taiwan
Delivery Time:
30-35 days after receipt 30% advance deposit.
Supply Ability:
50000 PCS per month.
Key Features
Lightweight.
Safe, rounded edges
Non-scuff leg caps
Available in a beautiful natural finish & various color
Available in different shape design
any table setting. General used in home furniture, dining room furniture, restaurant furniture, cafe bar furniture, bistro furniture, dinette furniture and even hotel furniture. Stackable characteristic for easy storage; lightweight for easy handling; practical and trendy; the chair will invisibly meet all your needs for the perfect dining set.It is made by wetting wood, keeping the well moisture & shaping it and letting it harden into curved shapes and patterns. With its affordable price and simple design, it becomes one of the best-selling chairs ever made. Best top seller 20 thousand pieces per month export to European market.The basic flexible bentwood of seat part is with basswood veneer, the characteristic of light color, close textured, straight-grained, easily glued, and diffuse porous creates the ability to remain flat without distortion, excellent nailing and screwing properties, and has a fine ability to take paint finishes. (Optional with walnut, oak, or beech veneer instead) Various NC lacquer, e.g., nature, white, black, red, green, dark blue, … for your different choice; and even coating in wooden color, as wenge, oak, cherry, beech…et cetera. The curved seat and back promote healthy posture, and rounded edges prevent injuries.The durable metal tubular legs are universal with chrome finish that offers an attractive contemporary style suited for every room decor. Powder coated to various color is also available. The cross design structure is by good punching & pressing a hole with fixing shape for easily screwing connection. Keeping the way of offering valuable products to customers, Sam Yi's new structure with welded "T shape" screw nut is offering to customers to create good response of markets together. And it comes with leg caps protect floors.KD (knocked down) as RTA (ready to assemble) structure package is highly recommended applied. The main purpose is to save space in the container for keeping the unit price low with competitiveness. Basic packing is 4PCS/CTN; 1PC/CTN or 2PC/CTN is optional offer. Package is an L shape 5-layer general export brown carton with line drawing; optional with white carton or color label instead.
Stylish Life in Furniture! Welcome OEM & ODM furniture inquiry!!
TAG: dining chair,dining room chair,restaurant chair,plywood chair,veneer chair,bentwood miller chair,cafe chair,bistro chair,dinette chair,commercial chair,conference chair,hotel chair,bedroom chair,living room chair,furniture chair,chair furniture,bulk chair.,
Contact Sam Yi to Get a Quotation Now!
* To get quick response, please fill out the inquiry form in English.