方形皮革椅/餐椅/事務椅(縮管腳)
SC001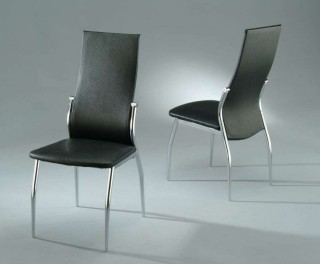 方形皮革椅/餐椅/事務椅(縮管腳) (SC001)
_時尚高雅餐椅,椅背加高設計。
_軟皮革面椅,黑色外,另有其它顏色可供應。
_縮管腳電鍍,附腳墊管塞,保護地面。
_K/D結構包裝,節省運輸空間。
_簡易組裝。
_可當餐椅、辦公椅、書桌椅、電腦椅、洽談椅、會客椅;適用於餐廳家具、客廳家具、辦公家具…等現代家庭家具。
產品規格
| | |
| --- | --- |
| 型號: | SC001 |
| 產品名稱: | 方形皮革椅/餐椅/事務椅(縮管腳) |
| 顏色: | 黑色、米色…等多種選擇。 |
| 尺寸: | 430*445*970mm |
| 材質: | 椅座軟皮PVC材質 (可供應其它不同材質)。 電鍍縮管腳 (可供應粉體烤漆鋁色)。 |
| 一般包裝: | 4 PCS/CTN; 分裝結構(KD/RTA); 一般5層紙出口外箱紙箱(黃盒),印線條圖。 毛重:29.8 KGS; 材積:10.12'(0.2866 CBM) 20ft: 408 PCS;40ft: 840 PCS. |
| 產地: | 台灣 |
| 出貨港: | 台中港 |
| 交期: | 收到30%預付訂金後30-35天。 |
| 供貨能力: | 每月20000。 |
主要特色
Safe, rounded edges
Beautiful & High compatibility in its simple natural design.
Stylish Life in Furniture! Welcome OEM & ODM furniture inquiry!!
TAG: dining chair,dining room chair,restaurant chair,synthetic leather chair,PVC leather chair,soft leather chair,cafe chair,bistro chair,dinette chair,commercial chair,conference chair,hotel chair,bedroom chair,living room chair,furniture chair,chair furniture,bulk chair.,
立即聯絡Sam Yi!
* To get quick response, please fill out the inquiry form in English.